Why I Use Jobber & You Should Too
Starting a business is no easy feat, but running one is even harder. In the service industry, there are seemingly hundreds of things to keep track of. If you try to keep track of. If you do it all manually, you are going to lose things and miss deadlines. If you want to be successful, you have to be organized.
When you first figure out how to get clients and start sending them invoices, you might not think that keeping up with those clients or invoices is all that much work. Although when you, hopefully, become more successful and have dozens or hundreds of clients, those things get very hard to keep track of and it can take ages to schedule and later invoice all of those jobs.

After I got tired of running ragged trying to do this all myself, I found Jobber. While it still gave me the ability to send invoices and talk with customers, it streamlined the whole process and was a literal game changer for my business. Although I am not the only one, there are thousands of businesses using Jobber, and they regularly report saving hundreds of hours per year by using Jobber.
What is Jobber?
Well, according to Jobber itself, "Jobber is an award-winning platform that helps small home services businesses organize their entire operations, from scheduling jobs and managing their crews, to invoicing customers and collecting payments. Unlike manual processes and single feature apps, Jobber's platform streamlines and automates daily operations, replacing duplicate entry and repetitive tasks with tailored automation."
That roughly translates to, it's the epicenter of your business, your dashboard, the place where you do literally everything except the actual service your business provides. The fact that you can keep all of that in one place is awesome, that has definitely not always been the case for the service industry, and it is one of the main reasons that Jobber is at the top of the industry.
What Can Jobber Do For You?
Alright, so you know that Jobber can do a lot, but what exactly can it do? Well, there is plenty to talk about on that front, but here I am going to hit the high points and try to include as much as I can without turning this blog post into a book. Let's get started with arguably the most important feature, quoting and invoicing jobs.
Track jobs from quote to invoice - Starting with quotes, Jobber allows you to make templates customized with your company branding that clearly display the details of the work along with images of your services, or photos taken at the on-site assessment. This makes it super easy for the customer to see what they are paying for, and Jobber will even handle client quote approval. All they need to do is open a link to the quote that Jobber texts to them, and sign. Then you are good to go!
After the quote is approved, it is turned into a "Job" and you can schedule it and assign employees to the job, although we will go into more detail about the scheduling and dispatching later.

After the job is done, Jobber automatically creates an invoice (which is on another custom template). You can then choose to invoice a single customer, or batch invoice multiple customers at once, and it all takes only a couple of clicks. While this is what the majority of "service" apps does, this is only scratching the surface of Jobber.

Manage all your client info in one place - If you are running the day to day of your service business, you likely know that Carol likes to have her shrubs trimmed a certain way, or that John wants you to take his trash can to the road. With Jobber, you can keep a profile on all of your customers and write those kinds of things down. That way, no matter who you send out to do the job, they will know exactly what they need to do to make the customer happy.

You can of course keep all the other important details about your client on their profile like their contact information, address, and any other details you want to keep track of. Plus, Jobber will keep a history of every job that you have done for that customer so you can look back at it without having to sift through emails. Jobbers client manager is an awesome tool, and keeping all of that information handy will help you provide a better service to your clients.

Super easy client communication - Speaking of clients, jobber makes talking with them super easy. Of course, you can message or call each other, but Jobber does a bit more than that. It will automatically send clients reminders! Whether it is a reminder about a quote they haven't signed, or a reminder that they have an upcoming appointment, Jobber has it covered.
Another awesome feature that Jobber has that falls under the communication category is allowing customers to request work. New customers can find you straight from google and schedule a prepackaged job that you set up. Existing customers can do the same thing through Jobber if they need a service they don't usually get.

Schedule jobs and dispatch employees - Once you have a quote signed by the client, you need to add it to your schedule. You can do this yourself, or have an employee do it, but Jobber makes it super easy. You can see your entire calendar at a glance and immediately know when you're available.

You can also use the app to dispatch employees to a job. This is basically like assigning certain employees to a job. If you have regular employees that do work for multiple clients in a day, you can assign them their day's work through Jobber. Then they know exactly what they need to do that day, and where they need to be.

Plus, you can also make custom job forms in Jobber for you employees to give them more details about a specific job. Another great thing that Jobber does is one click route optimization. If you assign an employee to multiple jobs in a day, it will calculate the route between jobs that is the fastest. That way they spend less time on the road!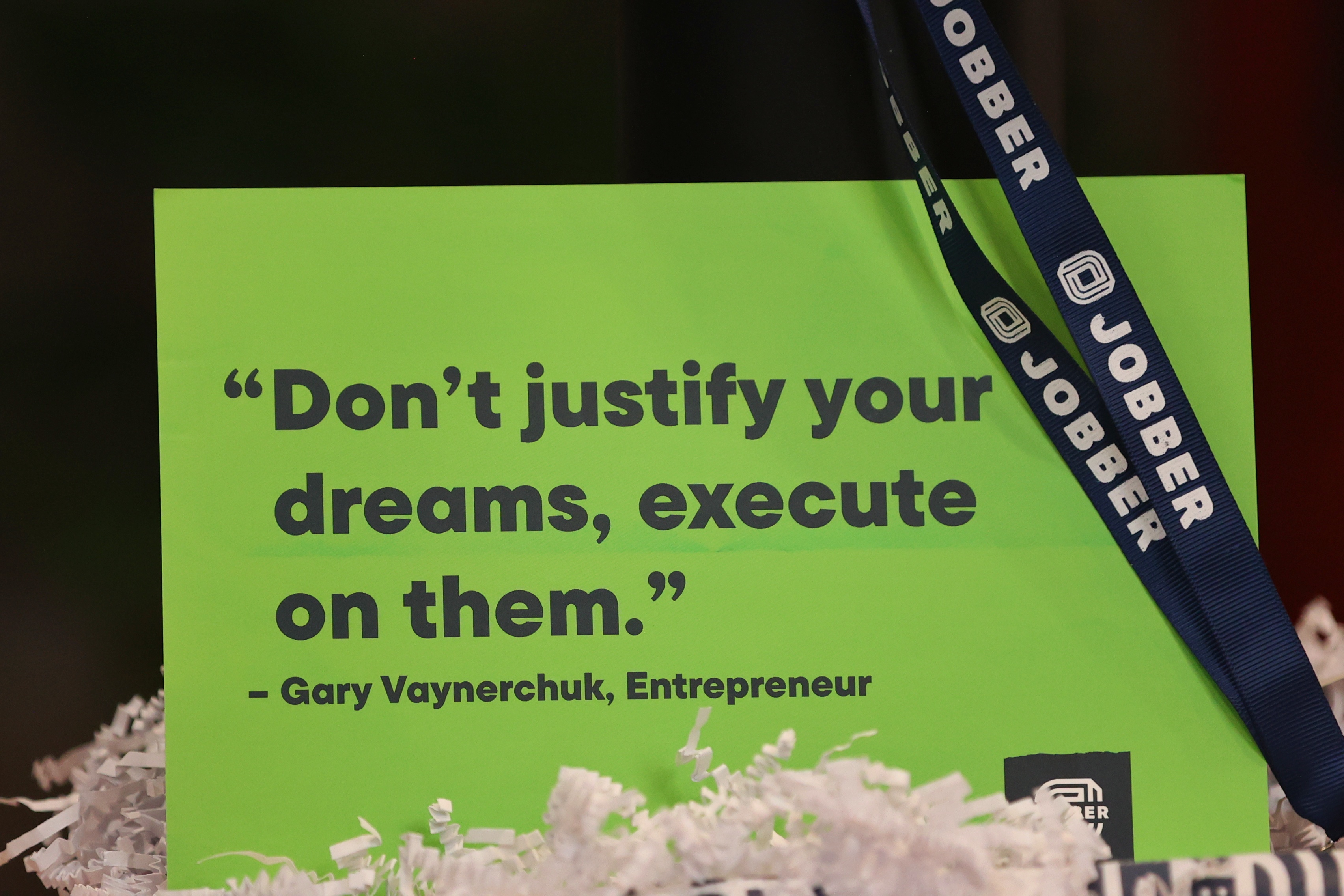 Get paid fast - You can also handle payments with Jobber! If you accept payment in person with a card reader, it can go through nearly instantly. You can also have customers pay online, and those payments will be processed within 24 hours. For regular clients, you can even enroll them in an automatic monthly subscription, so they don't need to find the credit card every time you come around.

If you quote especially large jobs, you can also offer financing through Jobber. Jobber mentions that this helps businesses close more high paying jobs since customers don't have to worry about paying a large sum all at once. With just one of these jobs, Jobber more than pays for itself!
Run over 20 business reports instantly - Another great feature is the automatic business reports. You can run the basic financial reports that every business needs in just a click, and there are actually over 20 different reports for you to look at when you can't sleep at night. From seeing how many outstanding invoices you have, to GPS data and time sheets for your employees, Jobber has it all.

Do it all in one mobile app - While Jobber has a ton of great features, none of them would be nearly as useful if you couldn't get to them so easily. That is why I love the Jobber app. It is right on my phone and I can whip it out and do whatever I need from anywhere in the world.
Cut Down on Admin Payroll
So now that you see how many great features Jobber has, you are probably pretty excited. Although the most popular subscription to jobber (the one with the most features) is the "Connect" plan that costs $97 per month if you go with the annual plan. That is a healthy expense, but considering all it can do for you, and the fact that you can get the first three months free with my link, it is well worth it.
Plus, that $1200 is way cheaper than what you would pay an employee to do this type of admin work, and Jobber likely does a whole lot more (a whole lot faster) than any hourly admin employee would be able to do. So if you have a full time or even part time employee doing this kind of work for you, you will pay them somewhere between $10,000 and $40,000 a year easily. Would you rather pay $40,000 or $1200 for even better performance?

If you are doing this all yourself, or have an employee that does admin work as well as other work, you can save a ton of time by using Jobber. Jobber says that if you do your admin work yourself, you can save more than 30% of your work day by using Jobber. It is just that much faster, and it does even more than what you would be doing in the first place! Then you can take that extra 3 hours in your day to get more clients, do more jobs, or spend more time at home. That is worth the price right there.
Manage Your Business With Micro-Moments
The best thing I love about Jobber is that you can manage your business in what I call "Micro Moments". Every time a job comes through, I get a notification on my phone and I can approve it in seconds and then have my employees assigned to it. Likewise, I can send invoices quickly whenever my employees finish a job, and I can run any report that I might need in a moment right from my phone.

Being able to do all of that from your phone when you are out and about is extremely convenient. It lets me message customers back faster because I don't have to get on my computer to remember what job I was doing for them, or where they live. You have everything at your fingertips, and in a micro-moment, you can do just about any task.
Offer More in Considerably Less Time
I have already talked about how fast you can be with Jobber, but I haven't mentioned how that improves your customer experience. Obviously, the faster you perform a quality service, or the faster you are able to communicate with a customer, the happier they are going to be.

The scheduling and dispatching feature of Jobber gets your employees to the job faster, and the custom job forms tell them exactly what needs to be done. Plus, you likely would not be able to keep track of nearly as much data as Jobber does without putting a considerable amount of time into it. We all know that the more organized you are, the better you can perform your job, and Jobber does just that.
So the great thing about Jobber is that it offers a ton of features, many of which you might not be even using in your business. Although the best part is that all of those features are automatic. It's simple, Jobber makes your business faster, better, and makes your customers happier.
How to Save a Few Dollars on Your Subscription
So if you like what you hear, and you want to try out Jobber to see if it is as good as I say it is, you can get a free two week trial with my link here. The best part is that my link will also let you get 50% off the first three months of your subscription. If you go with their most popular package, that is $150 savings!

I use Jobber because it really improves my business, and no matter how big your business is, I think it could help you too. I never promote things that I don't use and believe in, so when I got the opportunity to work with Jobber and get you guys a discount link I jumped on it without thinking twice. So if you are running around trying to do admin work instead of the actual service your business provides, try out Jobber. You can get a two week free trial and 50% off the first three months of your subscription by using my link right here, you won't regret it.